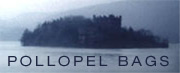 NEWS:
Pollopel Bags were exhibited in the 2006/2007 "Carte Blanche aux Stylistes" exhibition at the Musee de la Toile de Jouy in Jouy-en-Josas, France (near Versailles) alongside great fashion designers works in Toile.
A bag is now part of the museum's permanent collection.
THE RUCKSACK
| | |
| --- | --- |
| pale taupe | desert sage |
| deep red | blue jean |
ORDER THE RUCKSACK
see the army bag

The Pollopel Rucksack

My mother-in-law's Original Vintage Austrian Rucksack. This bag is gorgeous and rock-sturdy, but with such a lithe grace I just had to have it!

So I had it updated --with, among other things, a cell phone pocket-- I cleaned up the look and upgraded the hardware and leather, retaining the classic look. The most important thing to me, however, was that it be made in as craftsman-like a way as the original. The bags are made in Brooklyn with old-world care and understands what makes a handbag a lasting tool.

What makes this bag perfect?

The size:
Unobtrusive when it's not too full, but capable of comfortably holding a full weekend getaway wardrobe as well
as your phone, pda, sunglasses, lotion, makeup, pens, wallet and all the other odds and ends you can't live without. You'll be shocked at how much gear this bag can handle, and at how small it can seem when you lighten its load.
The pockets:
Two roomy pockets on the bag, along with the standard internal zipper pocket, key clip and three lipstick and two pen/makeup/sunglass holsters on the inside. The outer pockets comfortably acccomodate your full hand, so pulling things in and out of them isn't a wrestling match. One of the pockets comes with a matching lined water-resistant bottle holster. To top all this off, there's a hidden zipper pocket on the seam for your cell, your sunglasses, your lipbalm, metrocard and change.

The hang:
This bag has what the dress designers call "drape." It looks graceful and slender when there's not too much in there, but you can cram it full of shopping, weekend wardrobe, work nonsense, even baby hoo-ha. It's a workhorse in the guise of a spoiled princess.
The hardware:
The hardware--buckles, d-rings, zippers--are all weighty and smooth and worthy of the bag.
The materials:
Leathers are buttery and sturdy, lining is shiny and durable and the fabulous fun outer fabrics will get you stopped in hallways and on street corners with: Where did you get that?
The Price:
$295