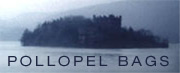 P O L L E P E L I S L A N D
Hudson River, New York, USA
Pollepel (PAH-luh-pell) Island is a small island in the Hudson River and the home to Bannerman's Amory. The armory was abandoned and for years has stood looking like a charming haunted castle on the little island.
A "pollepel" is a straight wooden ladle to stir the soup or porridge. In Belgium it also means soup ladle. When the Dutch came to New York they named a lot of places with Dutch words that were corrupted afterwards: Breukelen - Brooklyn, Haarlem - Harlem, Pollepel - Pollopel. Pollepel is itself a corrupted/assimilated word. In medieval Dutch it used to be "potlepel". When you search Google for pollopel AND pollepel you'll find that the word Pollepel has still been in use for a long time. Thanks to Daniel Grodence and Gerard de Noord www.eloquo.nl for the translation.
As home to this now-defunct Armory, I thought Pollopel made the perfect namesake for a company basing its bag designs on vintage army bags. We are both re-using military surplus in a more quotidien and peaceful way.
So why Army bags? I'm updating these extremely practical bags and dressing them in fine home furnishing fabrics. They were originally designed for no-nonsense on-the-run use. I've taken advantage of this and added the more current day necessities such as cell phone pockets and waterbottle and lipstick holsters.
If you need your bag to perform like Rambo, but not look like him--Pollopel is your bag!