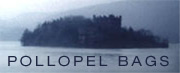 NEWS:
Pollopel Bags were exhibited in the 2006/2007 "Carte Blanche aux Stylistes" exhibition at the Musee de la Toile de Jouy in Jouy-en-Josas, France (near Versailles) alongside great fashion designers works in Toile.
A bag is now part of the museum's permanent collection.
THE ARMY BAG
deep red

blue jean


desert sage

pale taupe
The Pollopel "Army" Bag

This bag was my dream bag all through college--except mine was made of drab canvas and falling apart. By the time I'd left school it's charms were well hidden by it's sad appearance.

So I had it updated --with, among other things, a cell phone pocket--cleaned up the look and upgraded the hardware and leather. I used a most classic fabric in what I think is a humorous wink of a way. The most important thing to me, however, was that it be made with great old-fashioned craftsmanship. The bags are made in Brooklyn with old-world care and understands what makes a handbag a lasting tool.

What made this bag perfect?
The size:
Unobtrusive when it's not too full, but capable of comfortably holding a full-sized notebook and magazines as well as your phone, pda, sunglasses, lotion, makeup, pens, wallet and all the other odds and ends you can't live without.
The bags have brass hardware, red lining and natural light tan

vegetable -tanned cowhide which darkens naturally over time

The pockets:
Three roomy pockets inside the bag, along with the standard zipper pocket and an "envelope" flap on the back. Tuck letters in there or the newspaper, your metropass,
change, sunglasses, lip balm, or anything else you need easy access to on the run.
The hang:
Using classic mailbag styling on the sturdy yet buttery leather strap, I've made the bag easily adjustable from a hip and over the head length to a shorter more updated elbow length.
The hardware:
These took research! The original "lift-the-dot" marine fasteners are unique without being in the least fussy. You can close the bag with one hand. Slip your last fingers under the loop and use your first finger and thumb to pull the flap down. You can feel the fastener connect with your fingers. I think this is where the army practicality comes in. These bags were meant for the sort of on-the-go use that we demand from our day bags. The other hardware--buckles, d-rings, zippers--are all weighty and smooth and worthy of the bag.
The materials:
Leathers are buttery and sturdy, lining is shiny and durable and the fabulous fun outer fabrics will get you stopped in hallways and on street corners: Where did you get that?
The price:
$195