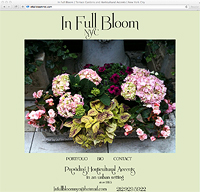 In Full Bloom, NYC -- Landscape and Floral designer Susie Allison's In Full Bloom, a New York service for companies such as Estee Lauder and elite private clients. Specializing in terraces and interior, events and special occasions.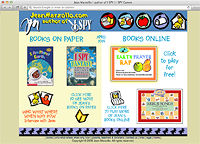 Jean Marzollo -- Children's book author Jean Marzollo, author of the I Spy series from Scholastic. Brought her website into a look and feel of her books and her own illustrations. Directed, recorded and animated many interactive aspects of her web presence including interviews, story/game books and recorded storybooks.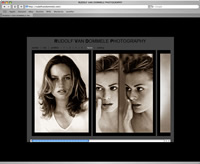 Rudolf van Dommele Photography -- Dutch-born Rudolf van Dommele worked with such renowned photographers as William Klein, Bruce Weber, Mario Testino, Annie Leibovitz and Steven Meisel and now graces magazines, catalogs and gallery walls with his own vision.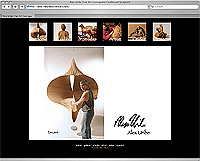 Alex Uribe--The Art of Cardboard -- Alex Uribe's sculptures are created with cardboard, both large scale and intimate. His work ranges from the abstract to beautifully rendered realism. I worked closely with his wife Lesli Uribe who is also an artist, and who designed this richly full-featured site.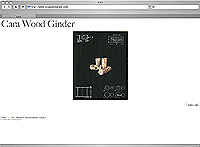 Cara Wood Ginder -- Intense realism in oil on wood from painter Cara Wood Ginder. Her works make precious the everyday, bring to mind the convolutions of thought that accompanied their creation and charm and beguile all at the same time.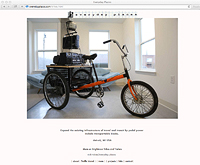 everyday places -- artist Nick Tobier's website. An independent inquiry into the structures of daily life, everyday places began on the streets of New York in 1994 with a private office space for a public telephone, and has since moved around a bit. Website in flux, probably perpetually...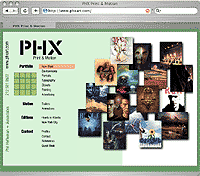 PHX Art -- Book Design, and other feats of imaginaical fantasticism from the mind of Phil Heffernan, New York Designer, photographer and artist.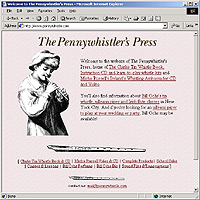 Pennywhistler's Press -- Pennywhistler's Press is Irish Traditional whistle-master Bill Ochs's center of activity. He is the publisher of the Clarke tin whistle instruction book, the producer of Micho Russell's CD and video, and purveyor of books, videos, CDs and learn-to-play whistle kits. He is also a well-loved teacher and performer of Irish flute, tin whistle and uilleann pipes.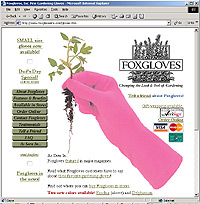 Foxgloves -- Fine gardening gloves. Offers online ordering. Durable, comfortable and really slick-looking gardening gloves.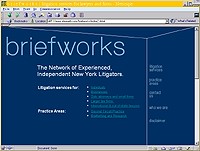 briefworks -- Briefworks is a network of lawyers practicing in the state and federal courts in New York City. They operate independently in their own offices representing their own clients, but use internet-based technology to collaborate on brief writing, discovery and trial preparation. [site based on logo design by Junji Hase Landor Associates, NY]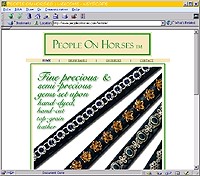 xxxxxxx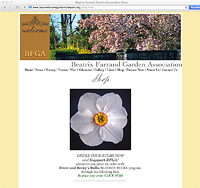 Beatrix Farrand Garden Association --The National Parks Service garden dedicated to Landscape architect Beatrix Farrand, a cousin of Edith Wharton and pioneer woman in her field. On the grounds of the Hyde Park Franklin Roosevelt home and museum. The garden has been painstakingly restored using Farrand's descriptions and plans.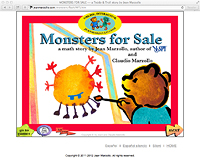 Jean Marzollo, Animated Story/Game Books -- One example of an animated story/game book written and illustrated by Jean Marzollo, author of I Spy. Games at the end of theh book, along with storybook itself were built with Flash and include a teacher guide.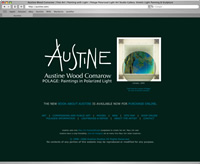 Austine Studios --Artist/Inventor Austine Wood Comarow's Polage Art website. This artform looks like super-real stained-glass--luminous and colorful--but uses only the prismatic colors of white light. She has created installations for Disney, Museums in Boston, Paris, Albuquerque, Singapore (among others) and private collectors worldwide.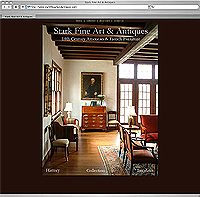 Eric Stark -- Stark Fine Art & Antiques -- Ranging from 18th Century French and American fine furnishings to the very modern post-minimalist art he is previously known for dealing, Mr. Stark's offerings at his boutique in Cold Spring, NY are unwaveringly the finest examples available.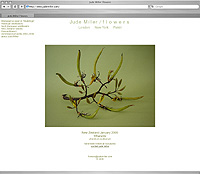 Jude Miller Flowers-- New Zealand artist Jude Miller creates super-real botanical sculptures focussing her attention on the normally overlooked, but fascinating wild-flowers and weeds that are her first love. Her work also wanders into the more outrageous beauties in the world of Flora and has been featured in fine magazines both in the US and the UK.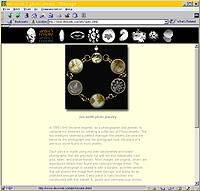 Jen Smith -- Stunning fine jewelry using bronze, silver, gold, pearls and precious stones and photographs. While the aesthetic is unusual and fresh, the work and materials are so fine that the pieces take on that ineffable patina of age.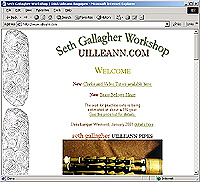 Uilleann.Com -- Irish Bagpipe maker Seth Gallagher's website includes a reed-making guide and a contact list of uilleann pipers around the world.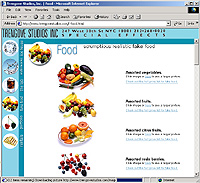 Trengove Studios, Inc. -- Trengove Studios creates all manner of props for photographers. Perfect and realistic ice effects, realistic fake food, larger than life models and chemical effects are just some of the astonishing and photographer-saving items they offer.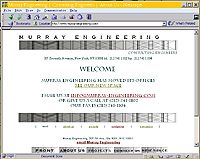 Murray Engineering -- Murray Engineering is a structural engineering firm providing a full range of design and engineering services for major projects in the United States. Projects include office buildings and towers, modular building design, special structures, schools, hospitals, renovations and alterations, historic preservation and restorations, as well as residential multiple dwellings and custom homes.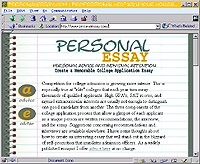 PersonalEssay.Com -- Professional Editor offers services to college bound kids looking for individualized help with their admissions essays.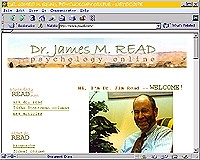 Dr. James Read's Psychology Online -- Boise, ID based psychologist Dr. James Read's fun and informative site about himself, his practice and some of his favorite things